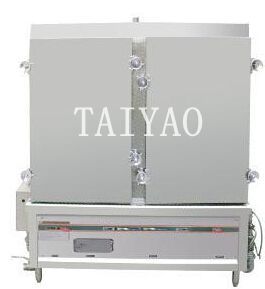 Product Description
Double door Commercial gas food steamer


Electric heating and steam heating dual function
Overall foaming
Energy saving


Commercial food steamer Characteristic:

TAIYAO Commercial Gas Rice Steamer is our staff carefully develops for a long time the crystallization,Compare the advantages and disadvantages of similar products at home and abroad, from each other,Combining with the cooking habit of Chinese characteristics, trial and error, scientific proof,Combine a number of high-quality practical equipment on this product. Adopt import stainless steel materials, advanced manufacturing processes, let Gas Rice Steamer series style is unique, beautiful shape, new structure, environmental protection guard, also has the following features:

The burner series of special products


With concise and beautiful appearance,all stainless steel shell and stainless steel inner container,Heat resistant rigid polyurethane overall foam,Silicone high temperature sealing ring, make the heat insulation performance is good, strong sealing performance, long heat preservation time,economy is durable.
Internal combustion gas steam generator, no noise, no smoke, high thermal efficiency, energy conservation and environmental protection.
In the cabinet have a floating ball type automatic switch water valve and drain valve.


Technical Specification


Series

Model

Name

Size(mm)

Pressure
(Pa)

Steamed rice ability

rice

Flour products

Gas Rice
Steamer
Series

TYXZDB-4

Single door 4 trays

700*670*900

2000 Pa

20kg

14kg

TYXZDB-6

Single door 6 trays

700*670*1070

2000Pa

30kg

20kg

TYXZDB-8

Single door 8 trays

700*670*1250

2000Pa

40kg

26kg

TYXZDB-10

Single door 10 trays

700*670*1400

2000Pa

50kg

36kg

TYXZDB-12

Single door 12trays

700*670*1600

2000Pa

60kg

40kg

TYXZDB-20

Double door 20 trays

1410*670*1400

2000Pa

100kg

72kg

TYXZDB-24

Double door 24 trays

1410*670*1600

2000Pa

120kg

80kg

TYXZDB-36

Three door 36 trays

1570*830*1600

2000Pa

180kg

120kg

Note:The above data are for reference only
Other Products in 'Commercial Steamers' category
Get in touch with us